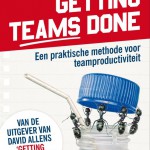 Holacracy (en de variant Spark) is een methode voor teamproductiviteit, net als GTD dat is voor individuele productiviteit. De onderliggende principes van Holacracy en GTD komen sterk overeen. Aan GTD ontleent Holcracy de discipline en helderheid van het denkwerk en de gewoontes en vaardigheden die daarbij horen. In Holacracy wordt het denkwerk gedaan en zichtbaar in de overleggen van het team.
Holacracy leent ook het een en ander van Agile. Een van de punten die Agile maakt, is dat je in complexe omgevingen niet al het denkwerk vooraf moet doen. Geen Big Design Upfront wordt dat genoemd. Je begint met kleine stappen en stuurt bij op basis van de ervaringen die je opdoet. Holcracy gebruikt dit vooral voor de kaders en afspraken waarmee en binnen het team functioneert. Het team begint met werkafspraken en stuurt bij waar daar behoefte aan is.
Het boek dat ik recent over Holacracy las is Getting Teams Done. Meerdere leerpunten uit dit boek zijn ook toepasbaar buiten Holacracy omgevingen. Die worden hieronder weergegeven.
Holacracy en spanningen
Binnen Holacracy zijn spanning de brandstof om het team dichter bij haar doel te krijgen. Een spanning is binnen Holacracy hetzelfde als wat Peter Senge in The Fifth Discipline "Creatieve Spanning" noemt: Het verschil tussen waar we nu zijn en waar we moeten zijn. Als een dergelijke spanning ontbreekt is een voorstel of een andere interventie niet noodzakelijk en brengt het team niet dichter bij het doel.
Van iedereen in het team wordt verwacht dat men:
Spanningen registreert;
Deze spanningen verheldert, kijkt wat je ermee moet en waar deze thuis hoort;
Een compleet en actueel overzicht heeft van acties en projecten (die deze spanningen oplossen);
Regelmatig dit overzicht bijwerkt;
Prioriteert en kiest op basis van dit overzicht hoe tijd en energie wordt ingezet.
De helderheid die bijvoorbeeld ook GTD kent, komt door het expliciet maken van de stappen die vaak impliciet genomen worden. Nu het expliciet is, worden de keuzen bewuster gemaakt. Binnen GTD is dit het verzamelen.
Spanningen verhelderen
Om de spanning en het overzicht zoals hiervoor beschreven goed in kaart te brengen, maak je gebruik van de volgende vragen:
Hoort het bij mijn rol? – Pak het op.
Hoort het bij een andere rol? – Draag het over.
Hoort het binnen dit team (deze cirkel)? – Laat rollen (verantwoordelijkheden) aanpassen zodat het overgedragen kan worden.
Hoort het binnen onze organisatie? – Draag het over het het verantwoordelijke team.
Vind ik het persoonlijk belangrijk? – Pak het op persoonlijke titel op, maar laat de organisatie er buiten.
Laat het los.
Hiervoor worden 3 niveaus van werk onderscheiden:
Rollen en verantwoordelijkheden.
Projecten (Lijst van mogelijke toekomstige acties gedefinieerd als gewenste uitkomsten).
Eerst volgende acties.
Compleet en actueel overzicht
Om een compleet en actueel overzicht te hebben is het handig om lijstje(s) bij te houden. Deze zijn vergelijkbaar met die van GTD en kent de volgende categorieën:
Wachten op lijst – waar je op iets of iemand wacht;
Later / misschien – waar je nu geen actie op neemt, maar misschien in de toekomst;
Agendapunten voor teamoverleg – spanningen over operationele zaken
Agendapunten voor roloverleg – spanningen over verwachtingen, rollen (verantwoordelijkheden) en procedures.