Yesterday I attended a Lessons Learned session for a Software Development project where I'll be involved in the upcoming phase. All participants shared their opinion on the negative and positive experiences. What went well and what needed improvement. Putting all these opinions expressed on Post-It notes in perspective I realized that the major part of the negative experience where from the early days of the project. Whereas the positive experiences seemed to be from the most recent period. This brought me back to one of the models I was taught on Group Development while taking training and coaching courses. It suddenly made sense to me that there had to be a relation with the Tuckman's Group Development Model.
Tuckman's Group Development Model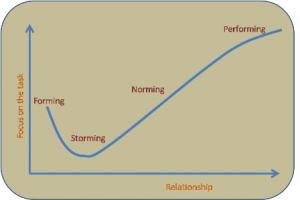 The Group Development Model that was proposed by Bruce Tuckman in 1965 has four phases:
Forming: Individual roles and responsibilities are unclear. Lots of questions about the team's purpose, objectives and external relationships. Processes are often ignored. Members test tolerance of system and leader.
Storming: Clarity of purpose increases but plenty of uncertainties persist. Cliques and factions form and there may be power struggles.
Norming: Agreement and consensus is largely forms among the team. Roles and responsibilities are clear and accepted. Commitment and unity is strong. The team may engage in fun and social activities.
Performing: The team knows clearly why it is doing what it is doing. The team has a shared vision and is able to stand on its own feet with no interference or participation from the leader. There is a focus on over-achieving goals.
More in this PDF on Forming, Storming, Norming and Performing.
So in which phase do you think the most fun, excitement and productivity is? And as you guessed this was reflected in the Lessons Learned session mentioned: The negative experiences were during the Storming, and the positive experiences during the Performing phase.
Note that:
These phases are all necessary and inevitable in order for the team to grow, to face up to challenges, to tackle problems, to find solutions, to plan work, and to deliver results.
It is important to realize this because sometimes a group of people in a meeting go through these same four phases. And if your a real goal oriented person you could try to skip the first two of three steps. That in will have a severe impact on the buy in of the group / team.
The teams that don't get out of the Storming phase usually deliver no or very low quality software…