What Oracle and some other BPM and ECM vendors call Adaptive Case Management – ACM – is called Dynamic case management by Forrester and others. The notion of a case and the need for these systems emerge from requirements elicited by existing Business Process Management (BPM) and Enterprise Content Management (ECM) implementations. Forrester states:
We found a clear recognition that older process automation approaches based on traditional mass production concepts no longer fit an era of peolple-driven processes.
Types of Dynamic Case management
Forrester uses a division in three categories of Case Management:
Investigative – Examples are Audit request, Fraud detection and regulatory queries. All these are aiming at risk mitigation and cost control.
Service Request – Think claims, customer service, underwriting and customer onboarding. Processes like these are aimed at customer experience and risk mitigation.
Incident management – Think managing complaints, order exception and acute helth care. This categorie is aimed at customer experience and cost control.
Dynamic Case Management extends BPM
In contrast to traditional BPM products, DCM software supports:
The ability to run multiple procedures against a given case of work – An individual case instance can be influenced by multiple processses.
The ability to associate different types of objects with a case – A set of data (structure, unstructured, assets, customers calls, etc) provide the context for an individual case.
Mechanisms that allow end users to handle variantion – Humans working on the case use their skills and expertise to interpret what is needed to handle the case and see the results of this reflected in the supporting system.
Mechanisms to selectively restrict change on a process – Certain lock down of change on certain assets is required due to compliance on one hand and facilitating goal-centric behavior on the other hand.
Beware of the untamed processes
In every organization there are several to loads of untamed processes. With a growing demand to track these, meet compliance regulations and gain insight on their effectiveness (and efficiency). Dynamic Case Management aligns with these untamed processes since they support:
both structured and unstructured content
both human and system controlled processes
facilitating khowledge and expert guidance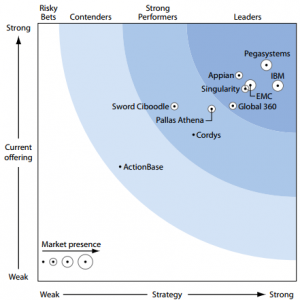 DCM has very strong point when bringing flexibilty and manageability together. It provides visibility and control for tasks that have to be performed. Key drivers for the DCM initiatives are both agility and traceability.
Oracle and ACM
As Forrster states: Many ECM and BPM tools form the basis for Dynamic Case Management solutions. With PS6 and release 12c of the Oracle BPM Suite, Oracle will take a leap into Adaptive Case Management segment as they call it. Check the other vendors in the Forrester Wave for Dynamic Case Management.