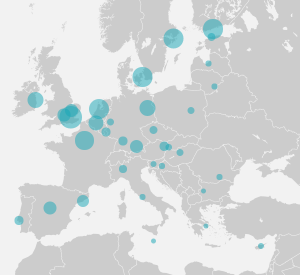 The European Digital City Index 2015 describes how well different cities across Europe support digital entrepreneurs. The aim of in the index is to support digital entrepreneurship across Europe and for policy makers, the index provides a tool to benchmark cities and decide where they may need to devote more resources.
The EDCI is a composite index based on the following factors:
Access to capital
Business environment
Digital environment
Skills
Entrepeneurial culture
Knowledge spillovers
Lifestyle
Market
Mentoring & managerial assistance
Non-digital infrastructure
The data for the European Digital City Index stems from among others Digital Economy & Society Index (DESI).
It should be no surprise that access to capital is by far the best in London, followed by Paris and basically all the others are really small compared to these.
Mapping to other indexes
First of all it is interesting to compare this map to the Global Startup Map. The number 1, London, in the EDCI has tentimes the number of startups in the global startup map compared to the number 2, Amsterdam.
The European Digital City Index maps really well to the Digital Evolution Index (DEI). However we should note that the DEI is not as optimistic about the growth of the digital capabilities of most of the countries where the top-10 cities are located.
Support doesn't equal results
The European Digital City Index looks at support of digital entrepreneurs in Europe. This doesn't equal results! If we look at global list of unicorns (in short billion dollar startups) both compiled by WSJ and TechCrunch results differ. There is just one unicorn in Amsterdam (Adyen), the number 2 on the EDCI, where both Berlin (number 7) and Stockholm (number3) have more.