Amazon's best sold laptop runs Linux! And I must admit that I was surprised to discover this today. It has been the for almost three months today.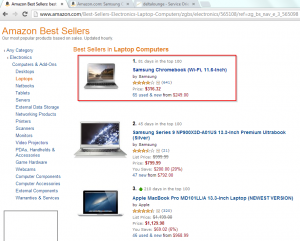 It's Samsung's ARM-powered, Linux-based Chromebook. This laptop has at least three great advantages:
It is cheap. There is no laptop in Amazon's top-20 that can compete based on price. It's even hard for tablet to be cheaper.
It is easy. Anyone that can use a web browser should be able to use the Chromebook. There is learning curve.
Although it runs Linux, you have to try hard to find that. Unlike with Windows 8 you don't have to relearn how to use your laptop. Same goes for those moving from Windows to OSX. Even there is more learning involved.
Think about how you are using your laptop most of the time: If you spend 90% of your time using the web the Chromebook might be something for you. Especially if you are using software-as-a-service or Web apps most of the time. On the other hand if you need special programs that require Windows or OSX this probably won't work for you. Right now you might want to check ZDnet's review of the Samsung Chromebook.