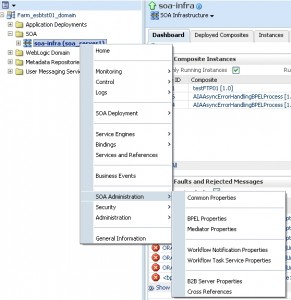 In the 10g release of Oracle SOA Suite you could set properties to instruct web service calls to go via SOAP or not. If you were calling services on the same server or domain you could gain some performance with a native call and avoiding the SOAP overhead. To do this you would set the optSoapShortcut property.
With SOA Suite 11g on WLS SOAP optimization is automatically configured. In the scenario where you upgraded to 11g R1 and are using this optimization shortcut approach, you should specify the Server URL in the SOA Infrastructure Common Settings. Optimized calls are only active when the host name value (referred to as WSDL URL in the composite.xml) matches the Server URL.
To configure the SOA Infrastructure Common Settings choose from the SOA Infrastructure Menu > SOA Administration > Common Properties. As shown in the screenshot. Other access ways to this configuration screen are described here.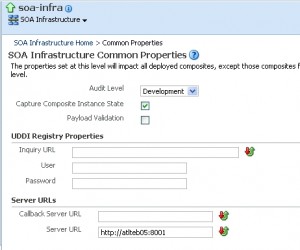 Enter the server URL in the Server URLs section. This URL is published as part of the SOAP address of a service in the concrete WSDL file. Either set both values to the host name (for example, myhost) or to the full domain name (for example, myhost.domain.com). If these values do not match, a regular SOAP call is performed instead of an optimized local call.
One of the scenarios that you have to set the Server URL in order to use the optimized local call is after a migration of AIA to AIA 11g R1.