(Re)discovered two interesting reads on team structure and focus this week that I like to share.
Pioneers, Settlers and Town Planners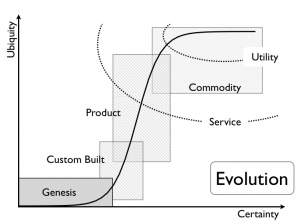 The Pioneers, Settlers and Town Planners approach help structure organisations and teams. It takes into account how activities and practices move from chaotic (poorly understood, uncertain, constantly changing, rare, future source of worth) to more linear (well-defined, predictable, stable, common, cost of doing business) and how organisations contain a mass of these activities and practices. Understanding this and using the right methods and tactics is important to creating a balance between the unstable but potentially high margin activities (chaotic) and the stable and low margin (linear).
McKinsey's Three Horizons of Growth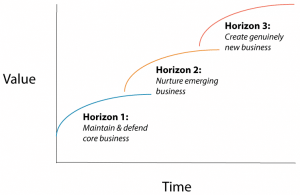 McKinsey's Three Horizons of Growth are all about keeping you and your teams focused on growth and innovation. This strategy framework requires you to categorize your goals into 3 different 'horizons'. You can also split the activities of your team to the three types of activities that are related to fulfilling the goals for the different horizons. In that case, a team could spend (as a rule of thumb):
70% on activities that are most closely aligned to your current business.
20% on taking what you already have, and extending it into new areas of revenue-driving activity.
10% on introducing entirely new elements to your business that don't exist today.
This helps ensure that you consistently balance your focus between the needs of today (horizon 1), the future state of your business (horizon 3) and the steps that you need to take to get there (horizon 2).