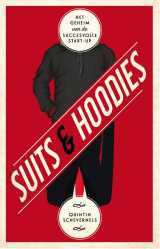 Suits & Hoodies – Het geheim van de succesvolle start-up van Quintin Schevernels, bevat veel voorbeelden uit de praktijk. Het zijn voorbeelden waar de schrijver bij betrokken is geweest en anderen (Google, Zappos, facebook, GoPro en Bol.com). In deze post een overzicht van de Bol.com mentions in Suits & Hoodies. Dit geeft niet alleen inzicht in achtergronden bij Bol.com, maar ook in retail in het algemeen en groei en innovatie in deze sector.
De kopjes in het overzicht hieronder verwijzen naar (sub)paragrafen in het boek. Opvallend is dat in elk van de 7 essentails uit het boek een voorbeeld over Bol.com is opgenomen.
Re-invent
Bedrijven die al langere tijd bestaan kijken naar veranderde behoeften van klanten, nieuwe technologieën en andere ontwikkelingen om het bedrijf opnieuw uit te vinden.
Er moeten investeringen gedaan worden om het bedrijf te transformeren. Mogelijk kunnen er acquisities worden gedaan om dit proces te versnellen. Zo kocht Ahold Bol.com om zijn eerder ingezette strategische verbreding naar een digitaal boodschappen bedrijf te versnellen.
Groot dromen – middelen beschikbaar stellen
Voor het realiseren van een droom heb je budget en mensen nodig.
Toen Ahold in 2012 Bol.com overnam, was direct duidelijk dat het hun ambitie was om Bol.com agressief verder uit te bouwen tot de grootste online winkel van Nederland. Dit betekende niet alleen in bestaande categorieën marktaandeel winnen, maar een veelheid aan nieuwe categorieën toevoegen. Ahold maakte vervolgens tijdens een roadshow eind 2014 bekend 60 miljoen extra budget (met name marketing) beschikbaar te stellen aan Bol.com om deze droom waar te maken. Groot dromen vraagt soms om grote middelen.
Vernieuwing – virtuele winkels
Technologie biedt nieuwe mogelijkheden om producten te distribueren.
Bol.com biedt meer verschillende koelkasten aan dan welke electronicawinkel dan ook. Behalve dat online kopen consumenten veel gemak biedt, hoeft Bol.com geen (dure) winkelruimte te huren, terwijl de winkel altijd open en bereikbaar is. Hierdoor heeft Bol.com niet alleen een heel ander propositie, maar ook een andere kostenstructuur.
Strategieën met betrekking to innovatie – peer watchers
Peer watchers zijn bedrijven die van vergelijkbare bedrijven in de branche afkijken, vaak in andere niches of geografische gebieden.
Een goed voorbeeld is Bol.com, dat van oudsher vooral kijkt naar wat Amazon in Amerika doet. Bol.com vertaalt dit naar zijn eigen product of markt.
Een bedrijf dat zich gespecialiseerd heeft in deze techniek is Rocket Internet (tot de recente IPO een van de Europese unicorns). Zij volgen wat er in Amerika gebeurt en vertalen dit zo snel mogelijk naar met name Europa. Met een snelle, betere executie hopen ze de eerste te zijn buiten Amerika. Rocket Internet was al succesvol met Zalando, Helpling en TravelBird.
Groeiversnellers – sticky engine
Deze manier van groei is erop gericht gebruikers te behouden, sterke cohorts. Als een gebruiker je product intensiever gaat gebruiken, heeft dat ook effect op je groei.
Denk bijvoorbeeld aan het aantal keren per jaar dat een gemiddelde klant van Bol.com in 2004 iets op de site kocht en het aantal keren dat die gemiddelde klant dat vandaag de dag doet. Met hetzelfde aantal klanten kan de groei dus ook enorm zijn.
Mistake in retail: de webshop als marketing in plaats van saleskanaal
Tot voor kort was het bij de meeste corporate retailers zo dat de webshop een onderdeel was van de afdeling marketing. Daar ligt het accent meer op branding dan op sales.
Ze hebben hun webshop te veel en te lang als marketing gezien in plaats van als winkel (en dus sales). Bedrijven als Hema, V&D en Blokker hebben mede hierdoor de slag verloren van partijen als Bol.com en Coolblue.
De zoektocht naar talent
Voor veel bedrijven is het niet eenvoudig om talent aan te trekken en te behouden.
Daarom nemen veel grote of snel groeiende organisaties mensen in dienst die zich volledig bezig houden met werving (recruiters) – denk aan bedrijven als Shell, ING en Unilever, maar ook aan snelgroeiende start-ups als Bol.com, TravelBird en Adyen. Er zijn veel recruitmentkanalen beschikbaar, maar de beste kandidaten zijn lastig te vinden.
Focus – Bol.com – niet alleen wat maar ook wanneer
Een van de grootste Nederlandse internetsuccessen is Bol.com. Tegenwoordig is Bol.com het grootste online warenhuis van Nederland. Met een omzet van rond de één miljard euro is het vijftien jaar na zijn oprichting groter dan V&D en zal het op korte termijn ook Hema in omzet voorbij gaan.
Centraal in het succes van Bol.com staat focus. Bol.com startte met een heel duidelijke en strikte focus. In de eerste jaren lag de focus volledig op boeken en CD's, overigens niet alleen in Nederland maar destijds nog in heel Europa. Er waren op de site geen andere producten te verkrijgen. In al zijn marketing uitingen werd de nadruk gelegd op 'grootste boeken- en muziekwinkel van Nederland'. Deze categorie was niet toevallig uit gekozen. In Amerika (bij Amazon) bleek dat dit de categorieën waren die zich in deze fase met name leenden voor e-commerce.
Naarmate het bedrijf succesvoller werd en de online markt zich verder ontwikkelde, verbreedde Bol.com stap voor stap zijn productaanbod, steeds met een duidelijke focus. Zo werd de categorie games toegevoegd en volgde een aantal jaren later consumentenelectronica. Hiermee veranderde niet alleen het productaanbod, maar ook de positionering. Bol.com werd 'de grootste mediawinkel van Nederland'.
De laatste jaren neemt e-commerce in Nederland een enorme vlucht. Dit creëert voor Bol.com met zijn sterke merk, grote klantbasis en ook extreem professionele logistiek de mogelijkheid om zijn productaanbod verder te verbreden. Zo zijn inmiddels ook categorieën als schoolartikelen en kookspullen toegevoegd, als een militaire operatie. Wederom is ook aan de positionering aangepast. Nu presenteert Bol.com zich als 'de winkel van ons allemaal'.
De verbreding gaat nog steeds door. Het is nu namelijk wachten op het moment dat Bol.com een volgende stap zet door bijvoorbeeld versproducten toe te voegen aan het productaanbod. Daarnaast zou het mij met de positie die het bedrijf inmiddels heeft ook niet verbazen als Bol.com in een aantal categorieën een huismerk gaat introduceren (iets wat in de offline retail ook succesvol werkt). Stap voor stap bouwt Bol.com zijn positie verder uit, steeds met focus.
Exit strategie – Volledige verkoop
Een van de mogelijkheden van een exit is de volledige overname (100% van de aandelen) door een derde partij. Dat kan een strategische partij, directe concurrent of een investeringsmaatschappij zijn. Het doel van de laatste is veelal om het bedrijf na 3 to 5 jaar weer met winst door te verkopen.
Een voorbeeld hiervan is … en NPM Capital dat bijna 50% van de aandelen Bol.com kocht en deze een paar jaar later met 'gezonde' winst aan Ahold verkocht.
Wat gebeurt er na een exit?
De plannen na een exit variëren enorm. Naast gewoon doorgaan zijn agressief investeren en flink snijden in de kosten veel voorkomende scenario's.
Dit kan variëren van agressief investeren (zoals Ahold vrijwel direct na de overname van Bol.com deed) …