Tag Archives:
Self management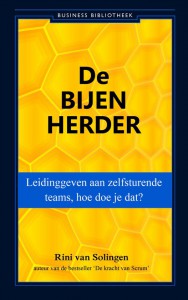 De Bijenherder is een management novel. Het boek is dus geschreven in de stijl van The Goal, The Phoenix Project, De Kracht van Scrum en bijvoorbeeld Getting Teams Done. Waarbij de laatste twee ook het aandachtsgebied delen met De Bijenherder.
Leiding geven aan zelfsturende teams
De zoektocht in het boek is die naar hoe leiding te geven aan zelfsturende teams. Door de toenemende omslag naar zelfsturende teams wordt ook deze vraag steeds vaker gesteld. En terecht want daarnaast blijkt dat een van de fricties bij het werken met zelfsturende teams is dat deze op een traditionele manier gemanaged worden. En dat blijkt niet goed te werken.
Het blijkt in de praktijk helemaal niet eenvoudig om zelfsturende teams aan te sturen. Wat kan en mag er nog gestuurd worden? Het is heel anders dan de aansturing van een team door een traditionele manager. Deze omslag wordt bijvoorbeeld ook in reinventing organizations goed beschreven.
Waar de meeste aanhangers van zelfsturende teams een sterke voorkeur hebben om te doen en uit te proberen, gaat De Bijenherder nauwelijks verder dan het denkproces dat de hoofdpersoon doorloopt om te komen tot een aanpak. Deze is weliswaar gebaseerd op de praktijkervaring van zijn opa, maar dat blijft iets anders dan zelf ervaren. Iets wat de hoofdpersonen in The Goal, The Phoenix Project en Getting Teams Done wel ondergaan.
De presentatie van Mark van den Burg
De hoofdpersoon maakt van de lessen die hij leert en die zijn opa hem leert een presentatie. Deze presentatie ziet er ongeveer zo uit:


Het boek en de presentatie daarin gaan een slag dieper dan hierboven weergegeven. Dat biedt voldoende aanknopingspunten om een (flinke) stap te maken in het leiden van zelfsturende teams. Naast het boek en de aangereikte handvatten daarin, moet je als leidinggevende natuurlijk zelf aan de slag, zelf doen en ervaren. De ervaring en feedback kun je dan weer ijken aan de aandachtspunten die in het boek worden meegegeven.
En?
De Bijenherder is een aanrader. Het leest makkelijk en de basis van het aansturen van zelfsturende teams wordt zeker goed duidelijk. Er worden praktische tips aangereikt.
Daarna is het doen. Zorgen voor feedback en toetsen aan de handreikingen die de hoofdpersoon voor je heeft opgesteld.
There is a growing number of books on holacracy. One of the first on this subject without even coining the term was Eckart's Notes. Also the ones on Semco (like Semco style and Maverick!) are gaining popularity. These all describe case studies, where Reinventing Organisations shows development stages in organization. These in turn are based on literature and case studies like the one that is described in Eckart's Notes.
Since we are experimenting with holacracy at Bol.com I recently read Getting Teams Done. It gives a great introductions and offers a practical approach.
Holacracy cases
Recently there were some case studies and testimonials of the use of holacracy published at Medium.

The Dutch design company Concept7 has experimented with a number of 'management styles' over the years. Their objective has always been clear: to foster freedom and empowerment in their employees. The entire staff has been working with holacracy for a few years now. Lauren shares her story.
The founder of Voys, Mark Vetter, has always believed in self-organisation. He claims holacracy has brought us accountability, entrepreneurship, and faster evolution. Check Mark's story on getting things done in a company. The Voys way is published in a book on the way they are organised.
The founders of the Dutch 'user experience' company Valsplat believe it is utmost important to bring your whole self to work, or even express or develop your talents. Nils claims holacracy has provided me with tools that help me focus. He states:
Holacracy helps us to become the best possible version of ourselves