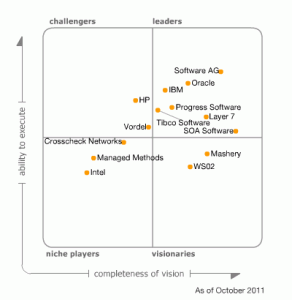 In October 2011 Gartner published it's Magic Quadrant for SOA Governance Technologies. Gartners sees the market for SOA governance technologies keeps changing, driven by more comprehensive requirements from end users. The most important change since their previous report in 2009:
Clients today prefer to buy SOA governance solutions that will serve their purpose throughout the whole SOA endeavor, governing services and artifacts through different projects from planning and design all the way to implementation operation and retirement.
The most important change that I see at our customers compared with two year ago is that they more more interested and willing to invest in governance technologies.
What is SOA Governance about
SOA governance technology is about:
Tracking and monitoring the artifacts in a SOA
Enforcing and ensuring compliance with the policies associated with the artifacts
Measuring the outcomes related to their use
Oracle's SOA governance offering
Oracle's offering in the Governance technologies market is part of it's Fusion Middleware product line. It includes the following products (see this this blog):
Oracle Enterprise Gateway and Oracle Web Services Manager – Full life cycle policy management
Oracle Enterprise Repository
Oracle Service Registry
Oracle SOA Management Pack
This number of products and the complexity of Oracle's offering can make it hard to get a good grasp of what product will cater your specific needs. Should you need more insight visit our SOA governance seminar.