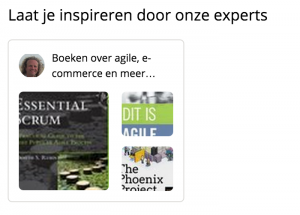 Met ruim 9 miljoen producten in de winkel valt er natuurlijk van alles te ontdekken in een winkel als bol.com. Om je te inspireren en wegwijs te maken in dit enorme aantal, worden er steeds meer experts en productkenners uitgenodigd om expertlijsten te maken.
Naast productspecialisten in dienst van bol.com krijgen verkopers, leveranciers en affiliate partners de mogelijkheid om selecties te maken en zo bezoekers van bol.com te inspireren met hun unieke assortimentscuratie. Uiteindelijk kan iedere gebruiker van bol.com straks zelf een selectie maken van artikelen; vanuit een bepaald thema, een hobby, een actualiteit, specifieke vakkennis of vanuit persoonlijke favorieten. Als lijstmaker kan je zelf een selectie samenstellen uit het omvangrijke assortiment.
Op dit moment loopt de pilot. Ik kreeg de kans om een aantal expertlijsten aan te maken. Je kan ze hier vinden:
Heb je opmerkingen of vragen over de expertlijsten, laat een gerust comment achter.