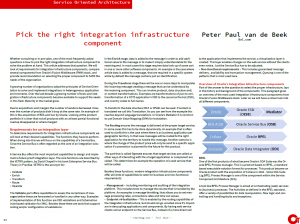 During Oracle Open World 2013 OTech magazine was launched. OTech is a new independent magazine for Oracle professionals. The magazine's goal is to offer a clear perspective on Oracle technologies and the way they are put into action. As a trusted technology magazine, OTech Magazine provides opinion and analysis on the news in addition to the facts.
My article in OTech magazine one of the most frequently asked questions is how to pick the right integration infrastructure component to solve the problem at hand.
Download the fall issue of OTech magazine.