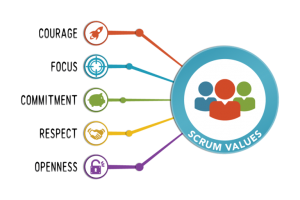 Just last week the latest update of the Scrum Guide was released. In this latest version of the Scrum Guide the five values of scrum play a more important role than in previous versions. In my 4 year old Scrum Guide Mind Map these values aren't around.
These values amplify the power of Scrum by providing a compass for decision making. They help teams adopt Scrum and deliver amazing software for their customers. They also prove fundamental to create a great place to work.
Scrum values
The Scrum values are:
Courage – Being transparent, but willing to change even if that means accepting that you are wrong, or that your opinion is not the direction that the team is going.
Focus – focus on what's most important now without being bothered by considerations of what at some point in time might stand a chance to become important.
Commitment – commitment is about dedication and applies to the actions, the effort, not the final result.
Openness – Highlighting when you have challenges and problems that are stopping you from success. The empiricism of Scrum requires transparency, openness. We want to inspect reality in order to make sensible adaptations.
Respect – Helping people to learn the things that you are good at and not judging the things that others aren't good at.
There is an interesting post on these values by Gunther Verheyen.