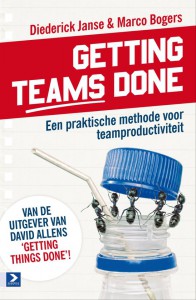 Het boek Getting Teams Done is een leuk introductie in Holacracy. Dit boek introduceert de methode waarmee leidinggevenden, teamleiders managers en zelfsturende professionals de teamproductiviteit naar een hoger niveau kunnen tillen. Holacracy wordt bijvoorbeeld ook gebruikt als organisatievorm bij Zappos (lees ook Delivering Happiness).
Getting Teams Done is geschreven in de stijl van Het Doel / The Goal en The Phoenix Project. De romanvorm wordt daarbij in dit geval afgewisseld met een non-fictie deel waarin wordt uitgelegd hoe Holacracy werkt en waar het een oplossing biedt. Daarnaast wordt in dat deel steeds het proces en de ondersteunende technieken uitgelegd.
Het boek Getting Teams Done is een aanrader voor iedereen die geinteresseerd is in Holacracy en zeker voor diegene die werkt voor een organisatie waar Holacracy of een variant als Spark ingevoerd wordt. Het invoeren van Holacracy of Spark vraag een zeer sterke discipline. Daarbij is het handig om hulp van buiten te hebben die buiten de inhoudelijke en andere discussies staat. Op die manier kan er sneller mee aan de slag gegaan worden en kunnen de resultaten eerder worden bereikt.