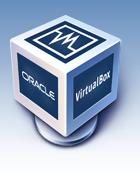 Virtual Machines are a great way to test stuff or use valuable tools in a separate environment. Think of test driving an OS, like Ubuntu 12.04 or Windows 8. Other examples include using pre-build appliances to use Oracle SOA Suite and BPM or WebLogic Server and Java tools.
Improve VirtualBox appliance performance
These Virtual Machines can be quite demanding for resources on your PC or laptop. Fortunately there are ways to speed up VirtualBox appliances. Besides increasing the allocated CPU power and RAM there are a few less expected things you can do:
Create fixed size disks – A preallocated disk will have less fragmentation. Adding of files to the virtual disk will be faster (spaces is already reserved). The downside is that a fixed-size disk uses more space on your hard disk.
Exclude the Virtual Machine directory from the virus scanner – Scanning there from the host isn't very useful either. So add this directory to the exclusion list.
Put the VirtualBox files on non-system disk – Put the VirtualBox files on a non-system disk. The virtual disk and your hosts's OS won't be competing to read from or write to these same disk.
Make shure the Intel VT-x and AMD-V setting is ON – These are processor extensions that improve virtualization performance.