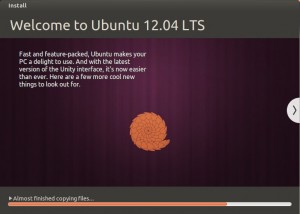 To install Ubuntu 12.04 in a VirtualBox image, create a new VirtualBox image as described in the blog post on installing Ubuntu 11.04 in VirtualBox. In later versions of VirtualBox you can choose mutiple types of virtual disks (.vdi , .vmdk , et cetera). This is only relevant if you want to share you image across multiple virtualisation platforms.
Check the instructions to install Ubuntu 13.04 in VirtualBox.
Install Ubuntu 12.04
Go to the settings of the newly created VirtualBox image;
In the storage section add an IDE Controller pointing to the installation disk: ubuntu-12.04-desktop-amd64.iso;
Ensure that you have asigned the VBox image enough processing power and memory;
Boot the installation iso by starting the VirtualBox image;
Watch Ubuntu 12.04 booting;
Choose your language and install Ubuntu;
After Ubuntu prepared it's install and checks some stuff for best results, click Continue to go on with the installation;
In a new VirtualBox image you can safely choose to erase all stuff on disk and install Ubuntu (it will use ext4 as a file system);
Select the created VBOX Harddisk to do so. Choose install now;
Choose the location while Ubuntu continues creating the file system in the background;
While Ubuntu keeps copying files choose your keyboard layout;
Choose your name, the computer's name, your username and password. For additional security you can choose to encrypt your home folder;
Restart the Virtual Machine and log in;
VirtualBox Guest additions
Check this post on Vbox guest additions to install the VirtualBox guest additions.
.