To create Oracle BPM processess with JDeveloper you need to install the BPM Studio extension. This is similar to installing the SOA Suite extension.
Ensure that the desired version of JDeveloper is installed. You can download JDeveloper here. Should you be unsure on how to install JDeveloper check the SOA Suite quick start guide to guide you.
Install JDeveloper BPM Studio extension
Install JDeveloper in a seperate Middleware Home. When starting JDeveloper choose the "Default" role. To enable JDeveloper to perform development for the SOA Suite and develop and deploy SCA composites you have to install an extension called SOA Composite Editor. When you want to develop BPM processess you need to install BPM Studio extension following these steps:
Select Help > Check for Updates
Click Next
Select Oracle Fusion Middleware Products and Official Oracle Extensions and Updates and click Next
Select Oracle SOA Composite Editor and Oracle BPM Studio 11g and click Next
Check the update has finished and click finished
Restart JDeveloper and you're good to go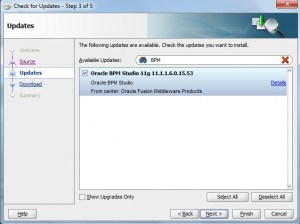 Should you choose to install these extensions from a local file make shure you have the correct version for your JDeveloper and SOA Suite install. You can find these extensions in the JDeveloper Update Center. There is also a JDev extensions blog.