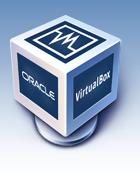 In this post we'll share some VirtualBox resources that will help you to use Oracle virtualization product VirtualBox.
Installing an Operating System in VirtualBox
There are several great blog post on how to install an Operating System (OS) in VirtualBox. The install Ubuntu 11.04 in VirtualBox not only offers a good step by step guide to install Ubuntu (also check the more recent Ubuntu 12.04 ) , the steps also provide great insights when you want to install other operating systems. It is fairly easy to get from there to installing Windows8 in VirtualBox.
VirtualBox appliances and extending them
There are several great VirtualBox Appliances for Developers. Oracle offers for example both an appliance to test drive SOA Suite 11g and BPM 11g and a very recent appliance running WebLogic Server 12c , including a bunch of Java tools (including NetBeans, OEPE, Subversion, Hudson, Maven).
These VirtualBox Appliances can easily be extended for example with Oracle OSB as described in installing OSB on SOA Suite 11g appliance and extend SOA Suite appliance with Oracle Service Bus. The latter showing you how to extend the SOA domain and the first how to install OSB in a seperate domain.
Dealing with real world problems using VirtualBox
There a several examples on the web. I'd like to share three of them. The first shows you how to create a duplicate disk for use in an additional virtual machine. The second shows you how to update a Vagrant box.
On the side: Vagrant uses Oracle's VirtualBox to build configurable, lightweight, and portable virtual machines dynamically. It uses Chef or Puppet to provision them. Vagrant is used so other developers can get up and running in just a couple commands.
The third shows you how we solved VBOX_E_FILE_ERROR (0x80BB0004) :
VBoxManage.exe: error: Code VBOX_E_FILE_ERROR (0x80BB0004) – File not accessible or erroneous file contents (extended info not available)
Or how to solve VirtualBox VERR_VMX_MSR_LOCKED_OR_DISABLED (0x80004005)
Failed to open a session for the virtual machine Ubuntu 12.10.
VT-x features locked or unavailable in MSR. (VERR_VMX_MSR_LOCKED_OR_DISABLED).
Since Virtual Machines can be quite demanding for resources on your PC or laptop: Here are some hints to increase appliance performance in VirtualBox.
Have Fun!