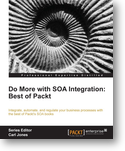 Recently I read Do more with SOA integration that was published December 2011. This book is a mash-up of eight earlier published works from Packt, including Service Oriented Architecture: An Integration Blueprint, Oracle SOA Suite Developer's Guide, WS-BPEL 2.0 for SOA Composite Applications with Oracle SOA Suite 11g, and SOA governance. More details on this title:
Target audience according to the publisher:
If you are a SOA architect or consultant who wants to extend your knowledge of SOA integration with the help of a wide variety of Packt books, particularly covering Oracle tools and products, then "Do more with SOA Integration: Best of Packt" is for you. You should have a good grasp of Service Oriented Architecture, but not necessarily of integration principles. Knowledge of vendor-specific tools would be an advantage but is not essential.
My thoughts
My assumption is that most people won't read the around 700 pages of this book cover to cover. In my view it is a good reference book to get a solid introduction to SOA and integration in general.
To deepen you knowledge on real world scenario's there a good examples eg given in the chapters on Extending enterprise application integration and Service oriented ERP integration. The first gives an example of of BPEL orchestrating various web service exposed on ERP systems (SAP, Siebel) using EAI (TIBCO, webMethods). This sample includes an example of centralized error handling. The latter shows an integration of PeolpleSoft CRM 8.9 and Oracle Applications 11g using BPEL 10g. The ideas and mechanismes of the integration will also hold in the 11g version.
Chapter 14 on SOA Integration a Scenario in detail, offers another example on how to use Oracle SOA technology (10g again) to integrate legacy systems into a more modern application landscape. It does a thorough job.
The chapter on Base Technologies has parts that are based on the Trivadis Integration Architecture Blueprint. Beside that it offers a good introduction on transactions, JCA, SCA and SDO. Their fundamentals are well explained without getting too technical. So should you be looking for coding examples on these topics, there are other great sources.
When reading about XML for integration I noticed that it answers questions we get from our customers on a regular basis like: How to design XSDs – XML Schema Definitions. Questions on when to use a type or an Element, chose targetNamespace or XMLSchema as the default namespace, the number of namespaces to use. These are all well adressed in the book.
Where on the other hand a complete view on the following statement could fill at least a whitepaper:
Adopt and develop design techniques, naming conventions, and other best practices similar to those used in object-oriented modelling to address the issues of reuse, modularization, and extensibility. Some of the common design techniques are discussed in the later sections.
The chapter on loose coupling offers an example of how to achieve this using the Oracle Service Bus. It is hard to overrate the importance of loose coupling since a lot of both the technical and the business advantage rely on whether or not this loose coupling is achieved.
Bottomline
As a reference this is a good starting point to learn about SOA and integration in general. It could be more consistent on some details and with the great BPEL and BPM tooling these days I wouldn't implement processes in an ESB. Of course there is a good chapter (12) with an eaxmple of using both BPM and BPEL. As mentioned before it has some great illustrative examples of real world scenarios. The bottom line is that I would recommend this book to people looking for a reference on SOA and integration.
Cons:
Some text seems a little dated.
Pros:
Good description of SOA and integration in general; practical ; solid introduction on the XML stuff, transactions, JCA and SCA; nice real world integration examples.
Additional reviews
If you're interested in other reviews on this book, visit the ADF Code Corner blog by Frank Nimphius, AMIS blog by Lucas Jellema, or this SOA / BPM on Fusion Middleware blog by Niall Commiskey.